Feb 19, 2018 09:06 AM Central
Pregnancy can be a fun and exciting time for mom as she brings a child into the world. It may cause different feelings to surface and emotions to change. These changes may start right away and are experienced differently by each person. I would like to share with you some of the changes that you might face, and how they may be eased with the help of Young Living's Feelings™ Kit.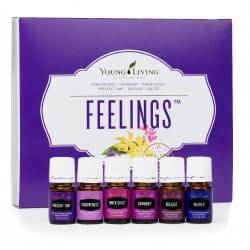 Tension and Stress
Tension and stress are emotional concerns that may run through your mind. You may experience feelings like "Am I ready for this?" or "Will the baby be all right?" Apply Harmony™ oil to the sides of the body. It will help you relax and let go of stress, tension, and fear. Then you can process your emotions easier and learn to enjoy pregnancy.
Energy
Because of the changes during pregnancy, you may often feel drained. This can cause emotional energy blocks in the body, and leave you feeling worn out. Apply Young Living's essential oil of Valor II® to your shoulders. It may help you have more strength and courage to process and let go of the emotional blocks, thus improving your energy level.
Fear
Fear is a normal emotion you may experience during pregnancy. It may leave you feeling afraid about the baby's development and the labor and delivery process. You may think, "What if something goes wrong?" Apply Release™ oil to your head. It may help you release the emotion of fear and bring you into an attitude where you are able to let go of that negative emotion.
Hormonal Imbalance
It is well known that pregnancy changes the hormones in a woman's body. The hormonal changes can be stressful at times. It may affect different areas of the body, such as the liver, stomach, and kidneys. It may result in the discharge of toxins though the body. All of this may hold you back from balancing your emotions. Apply Present Time to the back of the neck. It may help bring you into the here and now and balance the emotions you may be experiencing. It can also ground the body and release emotional blocks.
Frustration and Nervousness
At times the pregnant mommy may feel frustrated and nervous. This can be caused by the physiological changes from pregnancy or the many emotions you may be feeling. If you are feeling frustrated and nervous, maybe the first step is to use Inner Child™ oil. Put Inner Child under the nose. This essential oil may help ease your mind. It may provide what is needed to stimulate your memory to reconnect with your inner self. This can help you find emotional stability and bring joy to your heart, mind, and body.

Ups and Downs
Sometimes during pregnancy you may experience hard times with cycles of ups and downs. It might be difficult for you to calm down. From all the physical and emotional changes you are going though; you might also be fighting some sadness and feeling down. Apply Forgiveness™ oil to the heart. You may feel a shift in the body or a feeling of lightness. Draw in Forgiveness and let it improve the attitude and help with a sense of grounding and well being.
These quick, simple, and easy steps may help bring changes to help relieve the pregnant mommy. They can help you cope with the nine months of pregnancy and better handle some of the emotional discomfort and stress you may experience during pregnancy.